Active amidst the European Sport region
Whether in winter or in summer, whether inside or outside.
The Europa Sport region is so rich in opportunities for leisure and sports, that everyone will find his favourite activity.
Winterfun with no limits up to 3.029m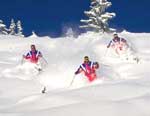 Snow

is guaranteed due to the glacier on the Kitzsteinhorn (all year skiing) and through artificial snow on the Schmittenhöhe (65% of all pistes)

Ski slopes

70km primed slopes with over 1000m altitude difference

Logistics

10 cable-cars, 10 chair-lifts, 23 t-bar lifts.
Total capacity: 61.695 people/houre

Skipass

Europe Sportregion Ski-Pass: valid on all facilities of the Schmittenhöhe and Kitzsteinhorn, as well as Saalbach-Hinterglemm

Skibus

Free ski-busses to all valley stations

Links
Gleiten durch die Europa-Sportregion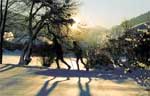 Zeit zum Genießen der herrlichen Landschaft, zum Plaudern und doch aktiv sein: Rund 200 km bestens präparierte Loipen (inkl. Anschluß an die Pinzgau- und Saalachtalloipe) stehen rund um Zell am See und Kaprun für ausgiebige Langlauftouren zur Verfügung. Egal ob Anfänger oder Fortgeschrittene - bei uns ist für jeden das richtige Angebot dabei. Denn wo kann man besser entspannen, als bei einigen Runden durch die tiefverschneite Winterlandlandschaft.
Langlaufen bringt Bewegung ins Leben und stärkt das Herz-Kreislauf-System, formt die Figur und auch die psychische Stimmungslage wird verbessert.
Eine kleine Auswahl unserer schönsten Loipen:
Fischhornloipe: Einstiegsstelle bei der Tennishalle, Knappenbühel oder Königshof in Thumersbach.
Die Westloipe ist 5 km lang und führt von Kaprun nach Piesendorf - sie ist sehr gut für Anfänger geeignet.
Die Loipe Zell am See Süd ist 9 km lang und ist die Verbindung nach Bruck und Kaprun. Schwierigkeitsgrad leicht bis mittel.
Die Loipe Zell am See Nord ist 25 km lang, und stellt die Verbindung nach Maishofen und Saalfelden dar. Schwierigkeitsgrad leicht bis mittel.
Bei der Bergstation der Zeller Bergbahn auf 1.320 m gibt es eine 2,3 km lange Höhenloipe. Schwierigkeitsgrad mittel.
Am Kitzsteinhorngletscher auf 2.800 m ist eine 3 km lange Höhenloipe ganzjährig gespurt.
Boarderpark und Halfpipe auf der Schmittenhöhe und am Kitzsteinhorn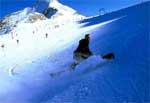 Buchen Sie einen erfahrenen Bergführer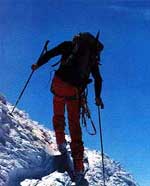 Gleiten Sie über den zugefrorenen See und genießen Sie das Panorama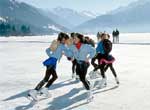 Im Winter am See oder in der Eishalle. Im Sommer auch in der Eishalle möglich.
Tobbogan - foun for young an old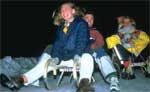 You could do tobbogan on special slopes - day and night..
Horse-sleigh ride - romantic ride through the winter wonderland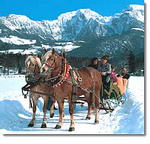 Enjoy a romantic sleigh ride, tucked in a warm blanket gliding through the sparkling wonderworld of Zell am See
Curling - precision and power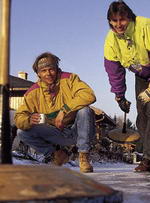 After a nice day of Alpine or cross-country skiing one meets up for one or two curling sessions. Once being a traditional power game carried out in the icy woods is now striving to become an Olympic discipline. Its not only to watch the local heroes but also to try oneself. The bigger the group the greater the fun. For the single players amongst us the tourist offices are arranging competitions which are likely to trigger new friendships.
Winter hiking - enjoy the winter world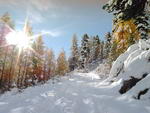 The cold season in Zell is not only famous for its superb skiing facilities but also for the hiking routes in the mountains. Small paths are leading to the remotest corners of the region, lined by romantic huts and cafes. You can even enjoy a walk on the frozen lake and watch the skaters and sleighs doing their rounds.
Proper shoes and clothing, and a bottle of tea are a must while touring through the sparkling sea of powder snow. Guided tours are arranged on routes of the Schmittenhöhe, where you can enjoy the view over the whole region.
.
Nordic walking - the new way of fat burning : healthy and environment friendly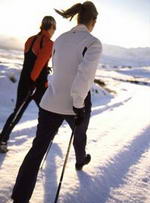 The positive aspects of Nordic walking are evident: Walking can be easily carried out even by less sporty people. As soon as the heart starts pumping, the calories are burnt - and the fat-reducing process is on its way. On the magnificent ski runs around Zell am See the fitness training is double as fun.
Snowkiting - with board and kite through the snow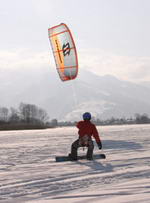 Snowkiting is offering new perspectives on Zell and its surroundings. Jumping 200m wide and 20m high is easy on a steerable kite. The device is pulling the adrenalin-addicted athlete up to a speed of 75 km per hour. Risky tricks may be tried. According to wind strength kites of up to 20 sqm surface are used.
For the first try the frozen lake with its plane surface is ideal. Strong winds and plenty of space are the best precondition for the easygoing pleasure. Skilled trainers will teach you the secrets of the snow-fare. Tricks for start and landing are essential. Basics of wind-dynamics are included in the program of the one week course..